UNITED WAY EMERALD COAST HELPS OUR COMMUNITY EVERY DAY
ESPECIALLY IN TIMES LIKE THESE
---
Thanks to contributions and incredible partnerships across the community, United Way Emerald Coast swiftly responded to the COVID-19 pandemic by creating resources to address the new, urgent needs of our community. Living UNITED means helping all residents across Okaloosa and Walton counties, especially the most vulnerable, as we navigate the COVID-19 pandemic together.
While our COVID-19 Relief Fund has closed, many individuals in our community are still suffering from the pandemic's effects. You can make a difference today through your contribution to United Way Emerald Coast.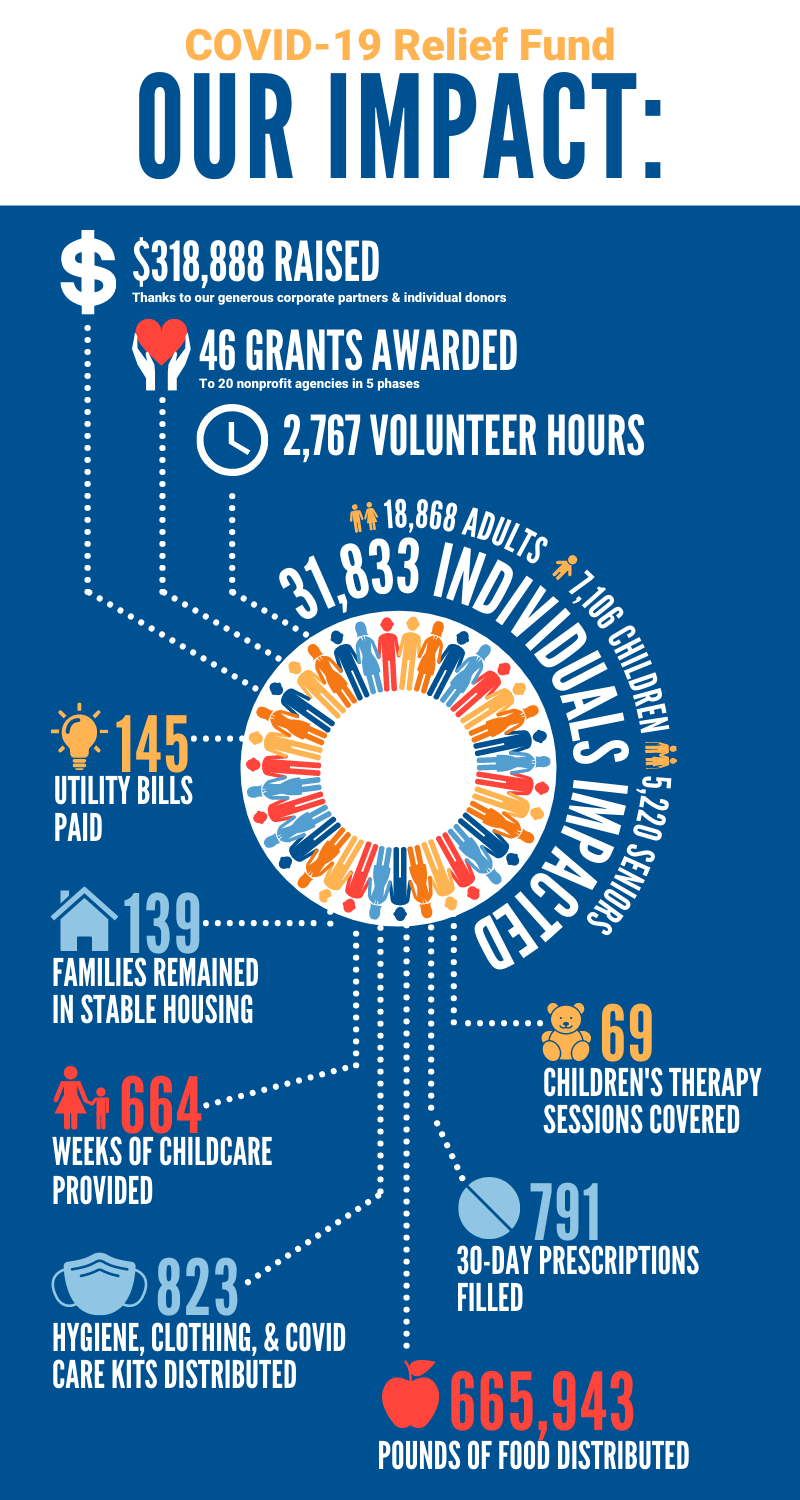 WHY
In April 2020, as the world was addressing the COVID-19 pandemic, United Way Emerald Coast quickly pivoted our plans - but not our approach. With guidance and input from our Board of Directors, donors, and partners, we quickly mobilized resources and relationships to ensure our health and human service providers had the resources to meet the urgent needs of Okaloosa and Walton counties' most vulnerable families, children, and individuals.
Like many organizations and businesses across the nation, local nonprofits felt the severe economic impact of the health crisis at the same time that requests from struggling individuals and families reached record highs.
To support the critical nonprofit services needed, United Way Emerald Coast launched the COVID-19 Relief Fund; Gulf Power Foundation quickly seeded it with a generous $125,000 investment. The fund was launched to offer local businesses, foundations, and individuals an opportunity to give with the reassurance their donations will be responsibly invested and resources will be deployed where they are most needed.
This isn't just a public health crisis. It's an economic one, too. We know many families across Okaloosa and Walton counties have been stretched thin and our partner agencies experienced an increased demand for services. Through the pandemic, your support allows us to do what we do best in the aftermath of disasters - help Okaloosa and Walton counties respond, recover, rebuild, and reimagine for the long term.
RESULTS
UWEC has the partnerships in place to quickly mobilize the caring power of our community and ability to direct resources to areas that will have the most positive impact. We use data to identify our region's greatest needs and drive our funding decisions. We are flexible and have the adaptability to address the community's needs as they change overtime and we continue responding to the impacts of COVID-19.
Twenty local non-profit organizations were supported by five phases of COVID-19 relief grants. This is an efficient and effective way to stretch resources since contributions support multiple agencies working in their field of expertise. Agencies are vetted by UWEC and meet high standards of financial accountability, governance, and performance. 
In addition to supporting grants for local non-profits, we hosted virtual conversations with nonprofits across the region. This opportunity allowed nonprofits to connect, explore collaborations, share resources, and find ways to support each other through the pandemic. Additionally, we launched several virtual volunteer opportunities for those looking for other ways to give back.
Through the COVID-19 Relief Fund, we were able to make impactful change in the lives of local families.  Here are some of their stories:
UNITED WE STAY HOME:
Ms. Meyer, a single mother of two children from Fort Walton Beach, was faced with eviction.  She is employed, but was barely making ends meet before the COVID-19 pandemic started.  When her employer cut her schedule from 40 hours to 20 hours each week, the family was left unable to cover essential bills. Our partner agency and COVID-19 Relief Grant recipient, Catholic Charities of Northwest Florida, was able to assist the client with case management services and past due rent -  keeping the family stably housed during a time of uncertainty.  Since then, Ms. Meyer has begun working full-time again and is successfully sustaining her family's needs.
UNITED WE STAY HEALTHY:
Due to COVID-19, Sherri had lost her job, along with her health insurance benefits, and had no income coming in. To make matters worse, her septic tank needed emergency repairs - draining her entire savings to fix it. When it came time to refill the prescription for her medications, Sherri told the pharmacist that her bank account was at a negative balance and she would have to over draw it even more to get the meds. The pharmacist explained that with the help of United Way Emerald Coast she would not have to pay any fees that month for her prescription. Sherri was able to stay healthy, find a new job, and make a full financial recovery. 
UNITED WE RECOVER:
Thanks to the COVID-19 Relief Grant our partner agency, The Salvation Army, was able to assist a single father and his son.  The father lost his job in March 2020 and was unemployed for a month before finding gainful employment.  Because of extenuating circumstances, he didn't receive the government stimulus check that would have offset some of the financial strain.  This significantly set back his finances leaving him unable to recover on his own, even once he started his new job. At that point, he came to The Salvation Army where he received assistance with his rent, allowing him to catch up the remaining expenses. Today, he is completely caught up and providing for his family. 
UNITED WE CARE:
Alex has been an active member of the Kenwood Boys & Girls Clubs of the Emerald Coast since 2018.  Even in the midst of the Pandemic he was eager to get back to the club, learn, make friends, and play. Over the summer his mother, a single parent, lost her job.  Even after she found another job, mom was falling behind financially and had no suitable means to cover childcares fees. Leaving Alex at home alone after school was not an option, and his mother was worried she would lose hours.  With the help of COVID-19 relief funds, Alex's childcare costs were covered, taking "a weight off of my shoulder," mom said.  This assistance means Alex's mom doesn't have to worry about a safe space for her son after school while she works, and Alex will get help with his homework, a healthy snack, and so much more.
GRANT DISTRIBUTION
COVID-19 Relief Grants were distributed based on our community's needs:
52% Rent, Mortgage Assistance, Shelter, and Utilities
20% Food
16% Healthcare
12% Child Care
Grants were distributed in 5 phases to local nonprofit agencies: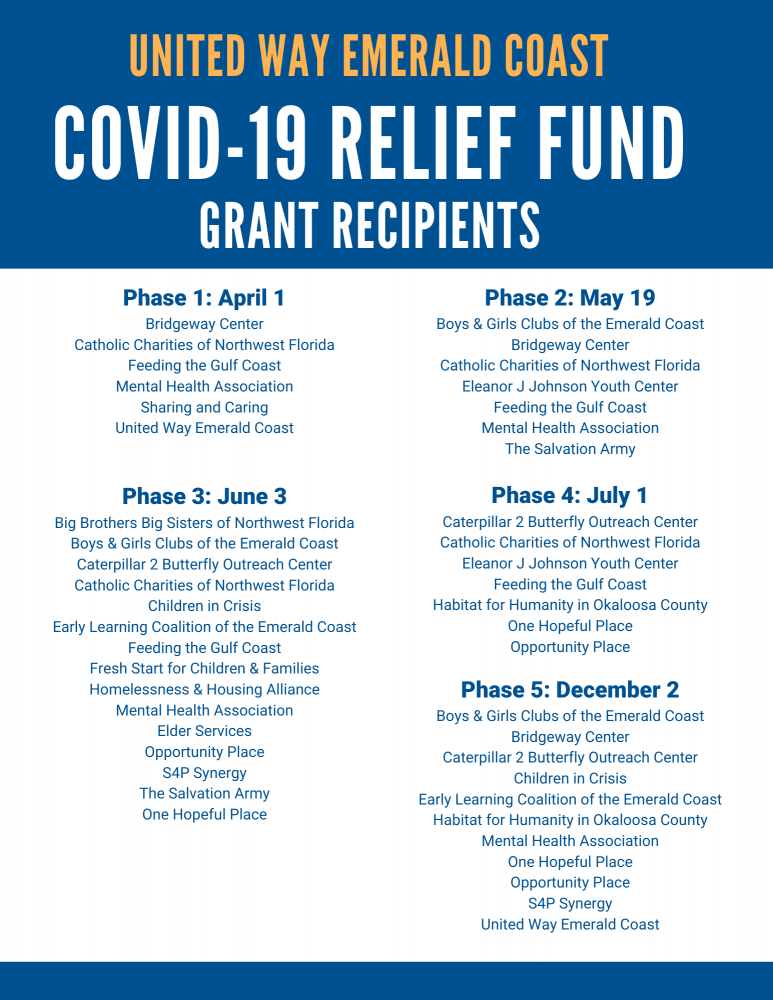 UNITED WAY EMERALD COAST CHANGES LIVES THROUGH COVID-19 RELIEF FUND
(Ft Walton Beach, FL – March 29, 2021) United Way Emerald Coast (UWEC) celebrates the one-year anniversary of launching their COVID-19 relief fund to support local, community-based organizations that are providing services for individuals and families affected by the pandemic.
In March 2020, as the schools closed and local businesses started cutting hours, UWEC and their sponsors decided it was time to step up for their neighbors and fill in the gaps. Since then, individuals and families across our region who were financially impacted by COVID-19 turned to UWEC and its nonprofit Partner Agencies to provide them with critical services and basic needs like food, stable housing, and medical care.
Starting with a generous donation of $125,000 from the Gulf Power Foundation, UWEC's COVID-19 Relief Fund raised a total of $318,888 which was distributed to 20 local nonprofits providing rent, utility, and mortgage assistance; emergency food and shelter; healthcare; and childcare. UWEC cannot begin to express enough gratitude to their corporate partners who contributed to the COVID-19 relief fund including: Gulf Power, Beach Bank, Wind Creek Hospitality, Eglin Federal Credit Union, United Way Worldwide, Florida Blue, Publix, Wells Fargo, Hancock Whitney, Beast Code, SunTrust/Truist, Whole Foods Markets, the White-Wilson Community Foundation, Humana, Step One Automotive Group, and more than 40 individual donors.
"The last year presented a number of challenges on so many fronts. We are honored to have been able to work with United Way Emerald Coast to pull together as a community to help those most impacted in these unprecedented times," said Bernard Johnson, regional manager for Gulf Power. "Through partnerships like UWEC we are committed to helping our customers and our communities during difficult times."
With schools closed, the COVID-19 relief fund provided 664 weeks of childcare so working parents could continue to provide. For families struggling to make ends meet due to lost jobs, reduced hours, and cut health insurance benefits, UWEC stepped in and kept 139 families in stable housing, paid 145 utility bills, and filled 791 30-day prescriptions. 665,943 pounds of food were distributed by UWEC and its nonprofit partners, providing 571,191 meals to locals facing food insecurity. Additionally, 823 hygiene, clothing, and COVID-19 care kits were distributed, ensuring that basic needs were met and that our partners could safely provide critical services to clients in crisis. In total, UWEC and its partners assisted 31,833 individuals in Okaloosa and Walton counties through the COVID-19 relief fund.
This Fort Walton Beach household was one of the many assisted by the COVID-19 relief fund. A single mom with two young children was working full-time and barely making ends meet when the pandemic began and her hours were cut in half, leaving her unable to cover essential bills. With funds from a UWEC COVID-19 Relief Grant, Catholic Charities of Northwest Florida provided case-management services and covered their past-due rent, keeping the family housed until the mom was working full-time again and could sustainably provide for her family.
Kelly Jasen, UWEC President & CEO, said, "During a time where so many local households were struggling to make ends meet, we leaned on our network of sponsors to ensure we could provide for our community. I can't even begin to describe how thrilled we were to see them step up in the way that they did. Because of their support we have been able to help so many of our neighbors in Walton and Okaloosa counties and truly turn things around for many families impacted financially by COVID-19."
"Our community has seen incredible progress as families have started to recover from impacts of the pandemic, and we are so proud to have been a part of that," Jasen continued. "Many are still struggling to meet basic needs and that's why UWEC fights everyday for our most vulnerable neighbors."
UWEC continues to help Okaloosa and Walton county residents recover through its Community Investment Grants. This fund supports the work of local nonprofit partners who are effectively addressing our area's most critical needs through healthcare, education, and financial stability. Applications from UWEC Partner Agencies for the 2021-22 grant cycle are currently being reviewed.
NONE OF THIS WOULD BE POSSIBLE WITHOUT THE SUPPORT OF OUR GENEROUS DONORS
THANK YOU COVID-19 RELIEF FUND SUPPORTERS!

and more than 40 individual donors