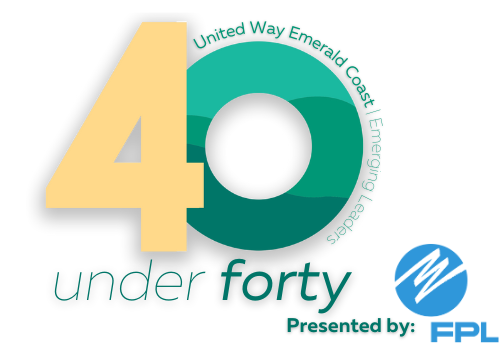 About the 40 Under 40 Awards
United Way Emerald Coast's Emerging Leaders 40 Under 40 awards, presented by FPL, seeks to recognize Okaloosa and Walton counties' top young leaders excelling in the areas of leadership, community involvement, and professional accomplishment. Emerging Leaders is a donor network for young, career-diverse professionals from entry-level to top executives between the ages of 21-40, with the mission to engage, educate, and empower the next generation of leaders who aspire to make a positive impact in our community. Join Emerging Leaders here.
The process of selecting our 40 Under 40 nominees is a multi-step procedure. It begins with an open nomination process, allowing the public to nominate individuals who they believe deserve recognition. After receiving nominations, UWEC reaches out to the nominated individuals, inviting them to submit applications. Following this, a dedicated selection committee meticulously reviews these applications to identify the top 40 honorees. To be eligible for consideration, honorees must be between the ages of 21 and 40 and either reside or work in Okaloosa or Walton County. It's important to note that previous honorees are not eligible for consideration.
We recently celebrated our 2023 40 Under 40 Awards, and we eagerly anticipate witnessing the impact these outstanding individuals will continue to make in our community!
Click here to check out the photo album from this amazing event!